wildlife garden in worthing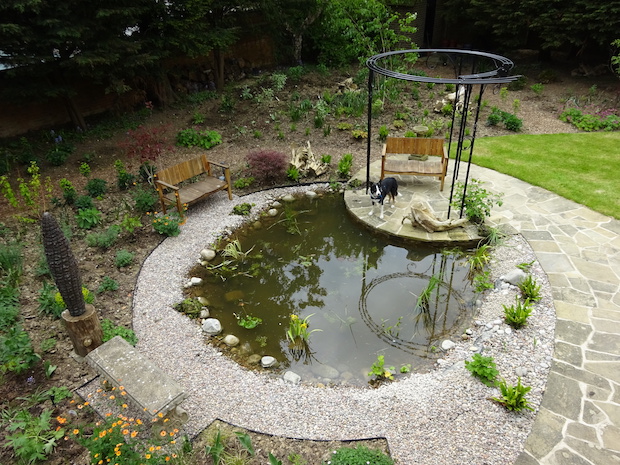 Carol was hired to design a wildlife garden in Worthing, West Sussex. The design focused on creating vertical interest within the empty 'L' shaped space. Surrounding boundary trees dominate the garden and provide essential filtering of the coastal winds from the beach, only a block away. To break up the existing leylandii screen and mature deciduous trees, multi stemmed feature trees were planted to create a interior structure. Generously planted borders provide support shrubs and perennials are chosen to attract insects and birds.
Sixty square metres of York stone crazy paving found on site was, cleaned and repurposed into new curved paths. These lead to three new patio areas. It seemed wrong to send the paving to landfill. Carol believes reusing quality materials found on site is part of a designers duty.
Carol created floral abundance around a circular wildlife pond. Overhanging the wildlife pond is a small landing patio. Clients can sit on the pond side and dip their feet in the pond! They often travel to Monet's garden www.fondation-monet.com and part of the brief was to include a sense of the elements from Giverny's opulent planting and water.
Blacksmith Belinda Ferretter was invited to the wildlife garden to create a bespoke circular metal arbour. This central focus of the garden supports scented climbers and frames the sky when sitting beneath. From here all corners of the garden can be viewed over colourful geraniums, geums and nepeta around classic roses, soft grasses and other nectar rich plants. The arbour near the wildlife pond creates wonderful geometric reflections.
See another commission using Belinda's work here.
"Carol has transformed our dull square back garden with its large lawn into a lovely garden and pond. The old York flags were lifted and relaid in sweeping curves that pick up the sight lines from different rooms in the back of the house. Her planting brings fragrance, movement and colour. The choice of trees provides height, colour and texture throughout the year. We are about to share it with family to show how good her design skills is."
Chris and Jackie, Worthing, West Sussex