through the looking glass: a surreal garden of distortion and scale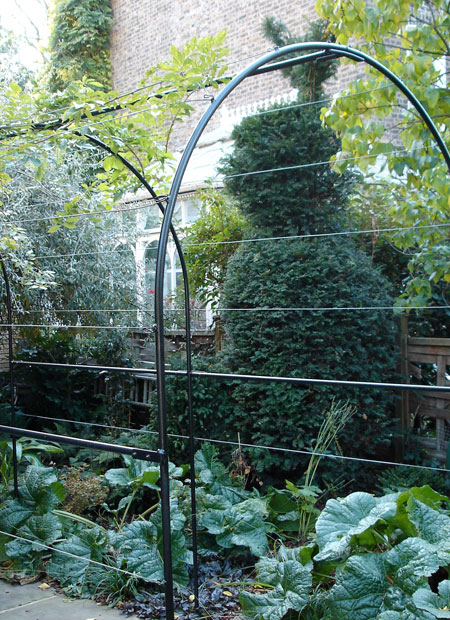 A sense of child-like fun leads this fantasy town garden project. The client's obsession with the Lewis Carroll story of Alice in Wonderland led Carol to prune and train the four metre Taxus baccata bush into a rabbit form. Pruning topiary in this way takes a few years. The skill is to stylise the shape simply into the desired form. After some time this 'White Rabbit' became reminiscent of the Playboy logo but this adds to the fun aspect of the living sculpture. It was a garden for 'grown-ups'.
The topiary yew rabbit is under planted with Crambe cordifolia, whose frothy white cloud-like summer flowers create a magical effect against the contrasting tight texture of the dark green yew, while the Crambe huge cabbage-like leaves add to the rabbit narrative!
The existing Magnolia and Sorbus trees having Tree Preservation Orders, meant they could not be removed. Buxus sempervirens was planted under the trees and clipped over time, to create loose cloud shapes. This area leads to a wall of vivid iridescent mosaic tiles, suggesting themes found in another Lewis Carroll book, Alice Through the Looking Glass. The trees form wonderful shadows on the tiles that shimmer like a Gustav Klimt painting.
York stone found on site was re-laid into a more practical path along the side of the house, where an existing Wisteria sinensis on the wall was encouraged to grow over a supporting adjacent arch to recreate the idea of Alice travelling though a tunnel. Dramatic performance plants around the space create a dizzy sense of scale which complements the topiary rabbit.
"I am really delighted with the way Carol translated my ideas into reality in my City garden. It's very cool."
Debbie, Canonbury