recycled garden design with festival of britain style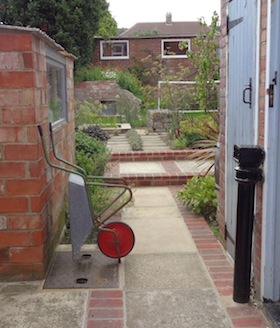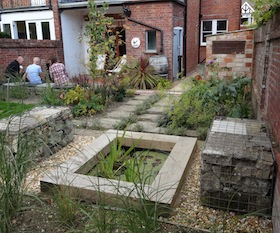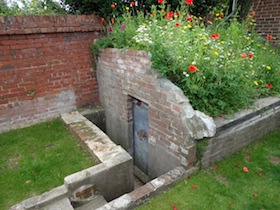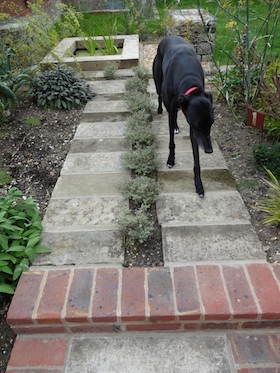 This family loved the style of twentieth century Festival of Britain and wanted to reflect this in their recycled garden design space.
Recycling does not reduce the overall budget, as materials need cleaning up and handling and labour costs within the budget can increase. However there is great satisfaction in reusing suitable materials and blending them into a space. It takes more thought and effort for this garden design challenge, which is why they had contacted me, desperate for my help and advice.
I concentrated in designing a spacious patio and path areas around the house recycling some massive concrete slabs that had been made in the 1960s by the previous owners. These home made slabs had formed a path through the centre of the garden and were like gravestones! The charm for me lay in their functional appearance and strength: ideal for patio use and if I was frugal we could use them for all patio, yard and raised step surfaces.
The Landscapers rolled their eyes at first, but I knew they had the skill to achieve it and the idea worked! I sourced warm orange red bricks from a local brick yard which contrasted well with the mid century grey concrete and linked to the original house brick: Instant unity.
Two tonnes of rubble excavated during the build were 'lost' in a series of gabbion seats, meaning less materials left site to landfill! Some plants were reused and a few more herbs around a small vegetable patch, softened the hardscape. Tall miscanthus grasses planted behind the seating will provide screening from the 'football field' after a few years growth.
A charming old Anderson Shelter at the back of the garden used for storage, got its soil roof weeded and doused with wild flower seed to make and even more delightful feature and important nectar bank for the bees.
Parents are happy with their grown up patio, children are happy to still have space for goal practice and the newt pond is saved ( now protected by a railway sleeper foot frame) and Dotty the greyhound has more interesting areas to run and relax in!
This is not 'cutting edge design', but sometimes conditions dictate that you just have to try something different and be resourceful. This approach can be a refreshing change and fun!
"Thanks so much for your help on the project and your dedication. Its been enjoying and satisfying seeing the plan come together and we think it looks brilliant."
Nicky and Jason. Eastbourne