planting tiny meadows: are you nectar rich?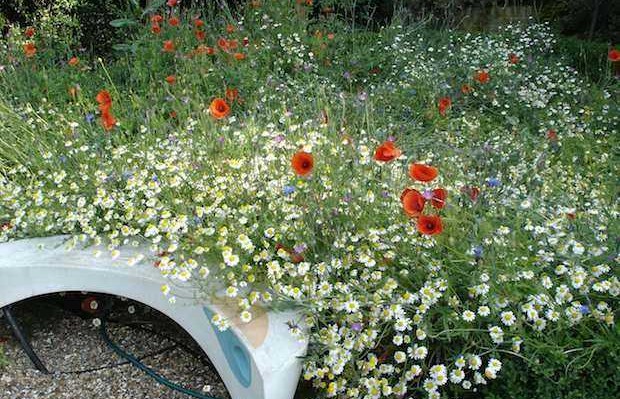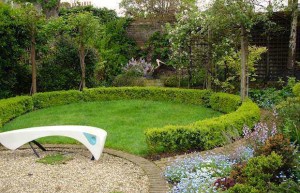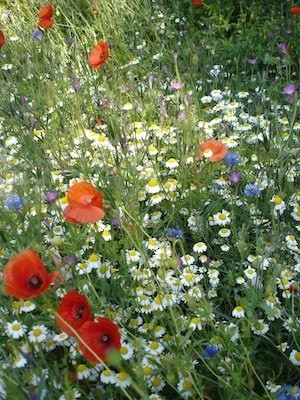 Creating a buzz: episode one… With the ever decreasing population of bees in the UK you can still help by planting nectar rich plants for insects.
In a relatively formal and traditional garden, a very stony circular lawn that never thrived was an excellent barren soil to sow wild flowers. The clients, Patricia and Eric, invited me to create an experimental meadow; to create more transience wild atmosphere in the space.
The result was a riot of energy and life. The first year I sowed an annual mix in autumn. After six weeks the seeds were emerging to form a hummocky carpet of growth.This overwintered and continued to grow after February, flowering for for first year in late May and June. Local foxes and cats soon decided to slumber in the soft textured bounty , meaning the planned perfect idyllic meadow spectacle went slightly awry, but the density of insects attracted to feed here made up for this intrusion. It is so easy there is no excuse not to have a go in any plot that has inferior soil areas if you are keen to encourage our insects to survive and the enclosed gardens of towns and cities are ideal places to do this.
It's a token patch and cannot compete with acres of field and meadow in countryside estate gardens, (not every one has transport to get to such places), but for six to eight weeks of the summer you can bask in romantic wonder at the diversity in a meadow and provide much needed nectar for your local insect population in a smaller intimate space.
Colin Reader of wildflower lawns and meadows based in Waldron, East Sussex provides an excellent range of meadow lawn seeds and has a useful blog to guide you through the process.