relaxed planting on an old priory site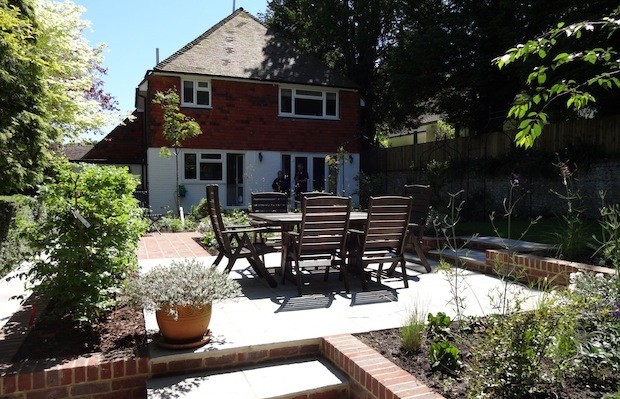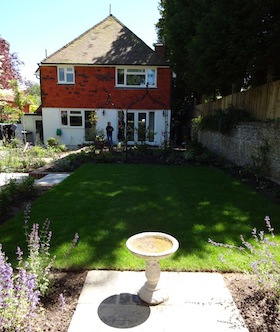 Garden rooms with changing levels, full of soft and relaxed planting creates this cloister garden on this historic old priory site. The existing shade casting yew trees and evergreen hedges around the garden boundaries give an enclosed cloister feeling on this former site of the old Willingdon Priory estate.
Planting choices are dictated by the challenging chalk content of the soil and the extreme aspect of bright sun and dense shade around the site.
New retaining red brick walls and steps, sourced from a local brick yard, were used bring safer level changes throughout the sloping area. The red local bricks match the mathematical tiles on the house wall and new light warm sandstone paving provides colour contrast.
Contrasting brick and paved paths around the garden lead to various seating locations. A new lawn gives breathing space in front of densely planted borders. A fresh green beech hedge screen in the dining patio area provides cool screening in summer and warming tones in autumn. Deciduous trees and shrubs are used as focal plants as their autumn colour contrasts well with the heavy evergreen perimeter trees in neighbouring properties: a simple use of 'borrowed landscape'. Chalk tolerant perennials and grasses make swaths of soft and relaxed planting and provide seasonal interest all year long.
"We had no idea where to begin with this empty space and you have designed the perfect solution for us "
D & T. Eastbourne