teaching food production skills: school veg plot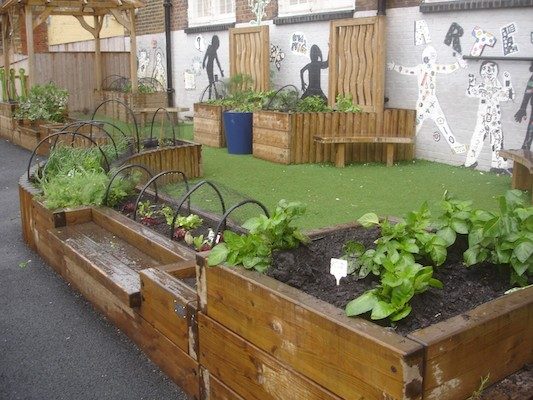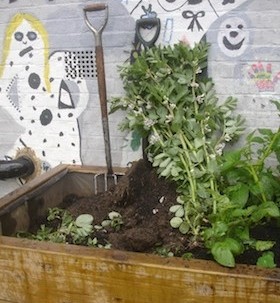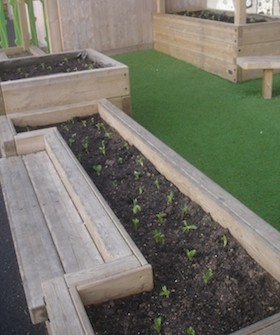 Growing together. Working with Year 5
Earlier this year I was invited to help plan a school vegetable plot and growing programme for students as part of their creative science lessons.
I was hired to help the pupils at William Tyndale Primary School, London N1, reclaim their playground space and start learning about the Grow Your Own process.
The playground around the school had already been planned by a landscape company so I was faced with masses of Macadam! Raised timber beds had been installed for vegetable growing, but no focused vegetable growing programme had been carried out.
I run my own allotment plot so translated my practice for organic vegetable growing to the raised beds in the school. In October I planted a variety of broad beans called winter field beans, an overwintering green manure. The beds had previously been neglected, so growing a green manure on bare ground protects the soil and helps prevent weed growth. The green manure can be dug into the soil, and left to rot down in preparation for planting out vegetables in the spring which we did in March. Winter beans fix Nitrogen which is important for leaf growth.
In January the children chitted first early seed potatoes in the cool, light Art block. These were planted out in late March alongside onions and shallots sets.
In my greenhouse I raised peas, beans and courgettes for the late spring and sweetcorn, squash and pumpkins for autumn. I netted some of the veg, to protect from pigeons and stray footballs!
My three site visits were enough to plant a range of quick return crops for the pupils to grow and harvest. The sessions were a combination of science learnt in class and my hands-on experience, and all the children had the chance to plant and water a vegetable. It was up to them to water the crop and at each subsequent visit they were able to show me their results. They may even cook some pumpkin soup in the school kitchens for their colleagues this autumn.
Feedback from the Head of Science, Elly Taylor: 


"The garden is looking great – thank you for all your work with Year 5! Now that the project is up and running, the children have been helping with watering a lot more and are very excited about watching things grow in the garden. The school has been awarded the 'Silver Gilt Award' in this years Islington in Bloom competition for 'Best Children's Growing'. The children are very pleased with themselves and I wanted to thank you especially for all your hard work and dedication that enabled it to happen! Congratulations! It's been great to have you to help us get started."