living willow sculpture is a handy B&B for pollinators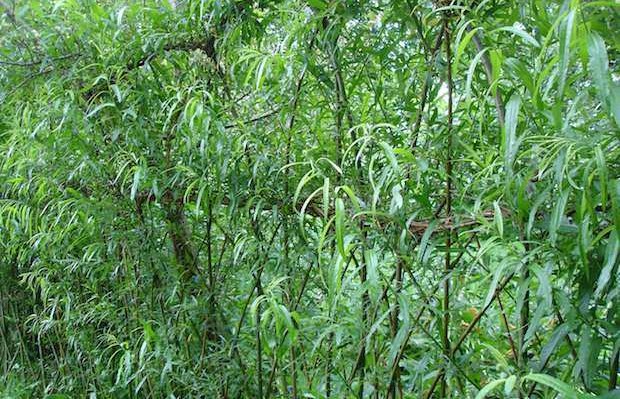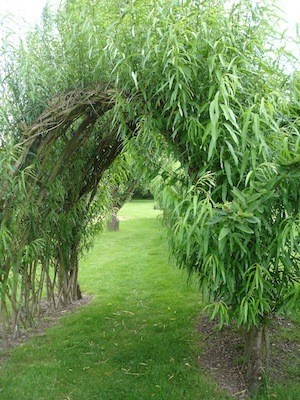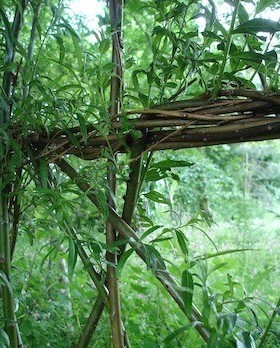 Creating a buzz: episode three… with the ever decreasing population of bees in the UK you can still help by planting nectar rich plants for insects.
In previous notebook posts I've written about meadow flowers and fruit pollen to encourage readers to grow some specific types of plants to help save our native insects and in turn feed garden birds during the Spring season.
Willow, or Salix, is also another important host plant for over 200 insects which in turn will also attract more garden birds to feed in your garden space. The catkin spring flowers of Salix provides pollen and nectar for honey and bumble bees and in late summer the breaking leaves attract lace wings.
Living willow sculptures provide both wild life interest and a wonderful ornamental focus in a garden.  When the deciduous leaves drop in the autumn you once again see its glorious stem colour which colours up during the colder winter weather, providing a linear art graphic for your garden. If the woven form  has outgrown its shape during the summer, autumn is the ideal time to lightly prune the new growth back to its original framework.
Willow sculpture can be functional and beautiful. In March the children of William Tyndale Primary School helped me make a willow screen around their tiny meadow area. The willow we planted and wove has improved the look of this area of the playground with its unfortunate log roll retainer and created a screen to protect their meadow from being trampled on during playtime in its formative years.
If more space is available bigger willow structures can be planted and woven such as a tunnel for children and pets to play in or a living pergola and seat shelters.
Willow also has an industrial use in rural communities planted often to hold back soil erosion along river banks but also again creating habitat for water wildlife. Its use always has a practical and aesthetic duel purpose in our lives.
Would you like help planting, weaving and maintaining a living woven willow addition to your garden or school project? Contact me to help you create one of these amazing works of art.