a fan of the 30's: art deco front garden design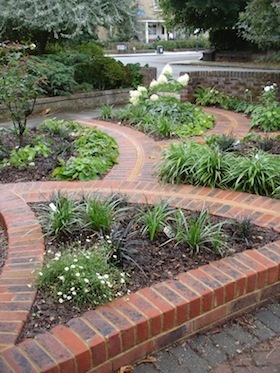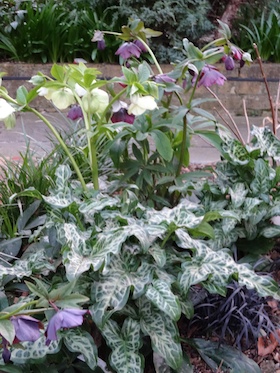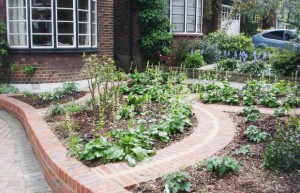 In this art deco front garden design I used stylish art deco curves to injected bold visual movement throughout the plot.
Inspiration for the new paths came from the original 1930's tile and brick detail within the front porch pier of the house. This reflected the traditional Arts and Crafts shapes used in this vernacular building.
Strong architectural design links are made connecting the garden layout to the house. The curves and arc shaped paths reflect the curved front bay windows and curved tiles on the upstairs balcony wall.
The 'Fan' shaped theme was further underlined with repeat planting along the curved paths, with rounded and linear textured leaved that provide interesting plant focus throughout the year.
The existing block paved driveway with an irregular curve is accommodated seamlessly as the arc deco curves tie both garden and drive shape to the plot to great effect.
Decorative and practical access is achieved through the site for weeding and access.
"We get immense pleasure every time we look at the garden, the design in itself is so satisfying. Many thanks."
Tanya & Roger, Highbury