a victorian style courtyard garden for a plantaholic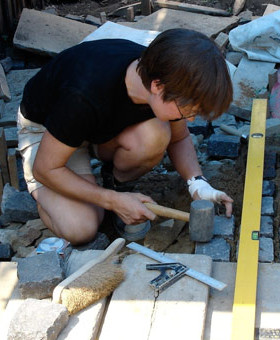 The brief: A victorian style courtyard garden reflecting the clients obsession with the period's Artisan detailing and Cottage Garden Planting.
This was a real challenge; so much detail needed from a tiny space, we had to avoid it becoming too fussy. By using a clean design layout with appropriate scale, an intimate and romantic secluded garden space was created that was complemented by the client's exuberant plant collection. Key features of the garden included:
A substantial formal wildlife pond stretching over the whole site – now populated with frogs!
New levels to navigate the space using traditional hard landscape materials of London stock brick, cobbles and sandstone, inter planted with scented thyme.
Contemporary rustic sculpture as a focal point.
The project was very much a team effort not only with the aid of Carol's skilled team in building the functional landscaping but also with the support and never ending enthusiasm of the client herself, who enjoyed planting the garden so much, and hopes to one day run a plant nursery.
"I am absolutely delighted with my new garden. Thank you for all the work and effort you put into it. I enjoyed working with you Carol. You listen carefully and have the ability to come up with designs that reflect the clients ideas and improve on them in many subtle ways. I feel I have benefited from your knowledge and also from your high standards and careful attention to detail. Thank you very much indeed."
Gail, Bow