kwai's space: an artist's chinese stroll garden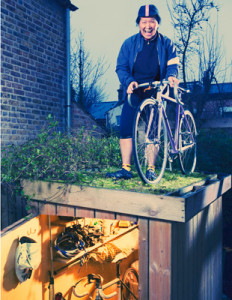 Kwai, a fine art painter, needed an artist's garden: a quiet contemplative space in which she could draw and also entertain.
The garden was dedicated to the client's late mother who originated from Hong Kong and the planting was to reflect this. Carol chose the traditional theme of the Chinese Stroll Garden loosely based on the ancient Chinese concept that a garden is a place to 'travel' through and with areas for quiet contemplation or alternatively a space of intense creative activity and discussion.
The main focus is a timber architectural 'drawing platform with integral pond' made of railway sleepers, providing a tranquil area where the client likes makes art. Nearby is planted a small Cercis siliquastrum, or Judas Tree, a perfect inspirational choice for an artist's garden with purple spring blossom on naked stems. Behind the pond platform and tree is a bed of black bamboo their dark stems contrast against a deep-yellow painted rendered wall, bringing visual character and light to the space. Dense jungle foliage plants create the lush organic feeling Kwai remembers from family holidays in Hong Kong.
Carol and her carpenter also made a bespoke, recycled timber bicycle shed on the deck, complete with Sedum roof for that added planting dimension and wildlife interest to this artists garden.
"The garden in encouraging me to make new work, it is like a studio. My mum would have loved this, it was built for her. I like staying in touch with the practical things in life, so I needed a design that would provide and efficient work space as well as having natural beauty. It is harmonious and has matured in amazing ways since it was finished. The plants are exciting and I love how every part of the space serves a purpose around my lifestyle. River my cat, and I are happy and content watching the nature in the city and it inspires us to learn, grow and enjoy our surroundings."
Kwai & River, Walthamstow