mediterranean courtyard flavour for eastbourne old town garden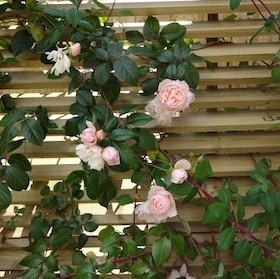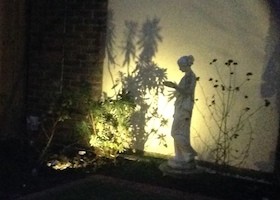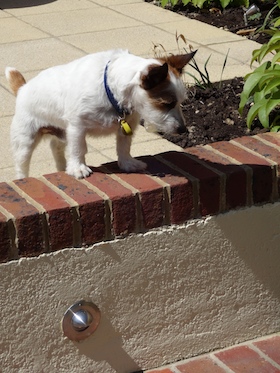 This design for an eastbourne courtyard garden provides a simple terracing solution for an awkward slope. The client now has views from the house down into the garden to watch wildlife from the house window.
When I arrived at the garden I was faced with an uninspiring sloping lawn, badly laid decking, tatty fencing and an oversized summerhouse. The client was at her wits end and did not feel safe walking around the uneven gradients. The space needed a huge injection of character to mellow the dominant 'new build' style architecture with its harsh red bricks and magnolia rendered walls and a busy multi coloured brick back wall, added to the bleakness.
By rendering sections of the brick wall facing the house a brighter and calmer and more intimate atmosphere is achieved. The wall now matches that of the new build house and provides a neutral backdrop for grasses and tall perennials. The render surface enhances the day and night time shadows
A contemporary slatted screen adjacent to the french door filters a howling wind that sweeps between the houses. The screen is planted with the climbing rose 'Generous Gardener'  bringing scent to the upper terrace level. Small trees and shade tolerant shrubs filter the wind and bring height, character and seasonal plant interest into the space.
This once awkward and ugly space now has the character of a mediterranean courtyard in the heart of Eastbourne Old Town, alive with birds, insects and frogs and has safe practical surfaces to walk around.
"Thank you for everything you've done and for all the care and attention you've shown."
Maureen, Eastbourne Old Town