exotic escape jungle garden: treasure in a quirky chic space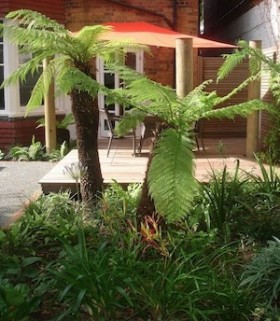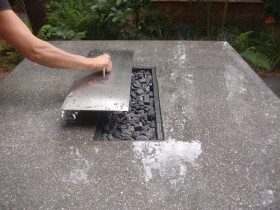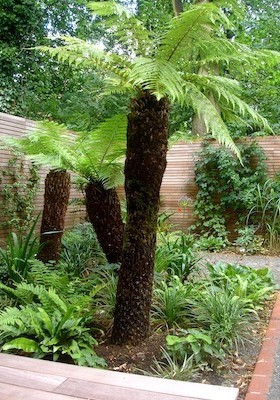 Exotic escape jungle garden had to be tough enough for party revellers, with a relatively low maintenance planting scheme and bespoke solid hand made furniture. "Nothing 'off the shelf' but something bespoke, different and earthy" said the client, " A garden that was quirky and chic and a place to party and escape to!"
A cantilevered concrete table complete with decorative fire feature takes centre stage for dining. Artist Glen Walker and myself designed this sculptural table which reflects the strange floating monolith in the 1968 Sci-Fi film "2001: A Space Odyssey". Glen constructed some beautiful oak benches, mirroring the cantilevered table structure.
A vivid red sail shade provides much needed privacy from the overlooking apartments and brightly contrasts against the green lush foliage of the surrounding undergrowth adding to the exotica theme.
Surrounding trees block out daylight so textural shade tolerant planting provides the successful solution. Drama is created by angle planting prehistoric looking Dicksonia antarctica (Tree Ferns). Fat glossy  exotic leaves of Fatsia japonica reflect light and tall screening Bamboos and Miscanthus grasses are blended together with other drifts of perennial tough ground cover, which will grow slowly in the dense shade, thriving in the clay soil.
Complementary hard landscape materials match and contrast with the Edwardian property brick work and is finished off with a sleek slatted perimeter fence.
The strong bold structures and plants makes this a garden of intimate primordial exotica drama.
"A beautiful garden " 
Simon, Hampstead