ornamental kitchen garden: sustenance in the city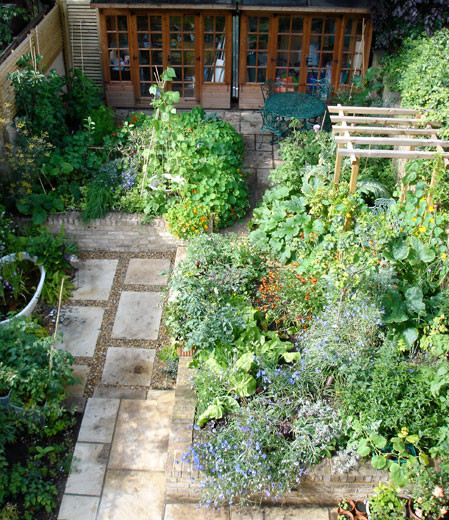 This ornamental kitchen garden is featured as a case study in a recent Frances Lincoln publication called New Small Garden, written by Noel Kingsbury.
Space is premium in these Victorian terraced houses urban Hackney, so every part of the design must earn its place.
An asymmetrical garden design layout was used for this urban kitchen garden with paths leading through subtle level changes between terraces. Retaining walls and step risers were made from stock brick to match the house and riven sandstone used for paths and patio surface areas.
Seasonal planting near the house gives visual structure in the winter months, when the kitchen garden is not in use. Companion herbaceous plants within the veg plot improves aesthetics and encourages beneficial predatory insects to reduce pests and diseases.
A sunken terrace with lush foliage provides a balanced and relaxing diversion from the vegetable beds. The focus of this transitional seating area is a wall sculpture by Lucy Smith. Two huge elegant lizards spout water into a recycled marble bathtub, spotlit at night. Clients usually have something to recycle from the house or garden and we are happy to consider these in the spirit of sustainability. The pond attracts frogs, toads and newts, while oxygenating plants and water snails keep the water clean.
The garden has also previously featured in The Edible Garden magazine as part of a four-page article highlighting garden design with the main focus of growing produce. These ranged from contemporary kitchen gardens to the more traditional potager.
"Carol created an excellent design and carried it out expertly. She and her team were lovely, enthusiastic, easy to work with and meticulous about leaving the site tidy! Having spent a fair sum restoring our house, the garden project was definitely the best value. Apart from a few pots I had never really gardened, but now I am definitely hooked!"
Mary and Richard,Hackney