contemporary stepped sun terrace that maximises planting space
I designed this contemporary terrace in Rotherfield in East Sussex. A steeply graded garden that was uncomfortable and dangerous to walk through has been transformed with safer steps and rendered walls.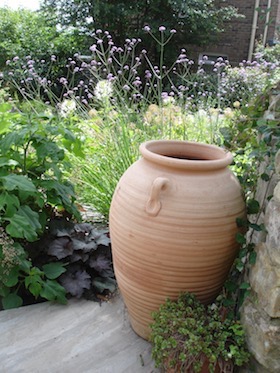 Water curtain features installed into two retaining terrace walls create a cooling effect on the hot sunny patio levels. The walls are rendered to provide a neutral foil and pick up the soft shadows of the abundant planting.
Venetian style trellis provides support for espalier fruit trees at the very top of this sunny terrace. This screening cleverly hides a greenhouse and shed near a parking area. An existing magnolia tree has been pruned effectively to a single stem, creating focus, shade and dramatic shadows over the terrace.
With the landscaping completed, this client got on with planting. The client is a 'plantaholic' and asked me for direction to develop the scheme. A keen gardener and vegetable grower, the client grows much of the flower planting herself from annual and perennial seed.
The design unifies this difficult space and provides a simple contrast to the vernacular property. The client can now enjoy growing all sorts of plants from seed in the new greenhouse and have fun experimenting with planting colour combinations.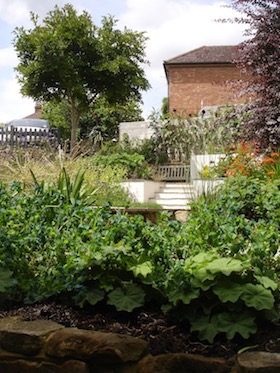 'We really are pleased with it all! Thank you so much for all your design work and encouragement, you have been great. Thank you again for the design work & advice.'
Angela and Jeff, Rotherfield, East Sussex